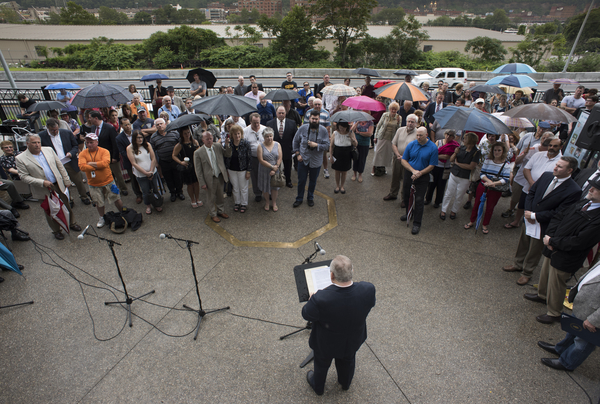 Pennsylvania Historical Marker Dedication and Ribbon Cutting at Saint Nicholas Roman Catholic Croatian Church, North Side, Historic Site
admin
Under gray and cloudy skies, with occasional rain drops, over 100 people attended the PA Historical Marker Dedication and Ribbon Cutting at the site of the former St. Nicholas Church, North Side.
Dressed in colorful Croatian costumes, members of the Junior Tamburitzans of Duquesne, PA, handed out keepsake programs to the event at the entrance to the sidewalk trail, across the street from Penn Brewery.
As guests walked along the trail adjacent to Route 28, they viewed 6 murals, sandblasted into the retaining wall, which commemorates the history of Pittsburgh's North Side, with the largest one being that of St. Nicholas Church.
Bill Vergot, Co-Chairman of Preserve Croatian History Foundation ("PCHF"), emceed the event.
Reverend Phillip Pribonic, who presented the invocation, blessed the site with holy water.
The Junior Tamburitzans of Duquesne, PA, then sang the National Anthem of the United States and the National Anthem of Croatia.
Some remarks from the program:
Susan Petrick, Corresponding Secretary of PCHF, reflected on the fight to save St. Nicholas saying:  "We want you to know that the Preserve Croatian Heritage  Foundation board members fought with every ounce of our being to save and preserve St. Nicholas Croatian Church, but the owners of this building made it very public that it would be better served if St. Nicholas was demolished, and so it was.  The loss of St. Nicholas is devastating, to say the least, and it is heart-wrenching for many of us standing here today on the very site where our church once stood, knowing we will never enter its doors again, attend Mass, receive sacraments, have celebrations, witness its beauty, or feel its holiness."
His Excellency, Josko Paro, Croatian Ambassador to the United States, commented:  "This is supposed to be a celebration … it is also a very sad occasion … because the church that used to proudly stay here has been demolished.  I have been part of the attempts to prevent it.  I wrote a letter to the Papal de Nuncio in Washington.  He sympathized very much with the idea of keeping the church in place as a museum of immigration, but it was all of no avail, eventually."
Pittsburgh Mayor, Bill Peduto, said:  "The green domes are gone and they were beautiful, but St. Nicholas never leaves if it doesn't leave our heart.  It's what they built with their hands.  They didn't have much; and what they did have, they sacrificed to build this.  But they didn't build it to be a building – they built it to be a community – a little part of Croatia that would stay right here in Pittsburgh and be there to share with their children, and their grandchildren.  As long as you keep that in your heart, as long as you are able to say that I'm proud of where I'm from, then you've lived their dream."
Ed Pazo, National President of the Croatian Fraternal Union, said:  "I am proud to be standing on this hallowed ground where we and thousands of Croatian immigrants and families before us gathered – joined in faith and unity, celebrating the joys of numerous occasions, marking the Sacraments of Baptism, First Holy Communion, Confirmation, and Marriages, as well as bidding mournful farewells to loved ones who have passed before us.  May God's blessings shine upon all gathered here together as we dedicate this historic site in tribute to the hard-working Croatian people who built St. Nicholas Croatian Church with love, labor and pride."
Councilwoman Darlene Harris was unable to attend.  In her place, staff person Doug Shields read a City of Pittsburgh Proclamation declaring that June 20th, 2015, is St. Nicholas R.C. Croatian Church Day.
Jim Ferlo, Retired State Senator, and founding member of Preservation Pittsburgh, remarked:  "Demolition is not the only danger to historic preservation and historic properties, as we know.  Neglect can be just as harmful as well as renovations that destroy the integrity of the original structure."
Mark Masterson, representing North Side Leadership Conference, said:  "We all had such high hopes…but we had some very powerful detractors. … I wish we could have had a better outcome."
Dan Cessna, District Executive, PennDOT District 11, said:
"This memorial wall that surrounds us actually outlines the octagonal shape of the dome and spires that had been on the former church as does the brass ring in the middle of the seating area that exists here…
The (interpretive panels) text, I cannot explain to you the dedication, the effort that went into what the words are that share that history from the past.  It wasn't a simple task, but it was with love and dedication that came upon us here today and hopefully shares that history for the future."
Members of the PCHF board then cut a Croatian-colored ribbon that stretched in front of the memorial wall, held by two members of the Junior Tamburitzans.  Board members then presented pieces of the ribbon to the dignitaries in attendance.
Andy Masich, Chairman of the Pennsylvania Historical and Museum Commission, remarked that there are over 2000 Pennsylvania Historical Markers across the state.
Then, raindrops turned into sunshine.
Stephen Willing, Co-chairman of PCHF, commented before he unveiled the PA Historical Marker:
"We gather here today on this sacred ground, just as generations before us have, to honor the memory and historical significance of St. Nicholas Roman Catholic Croatian Church, North Side, the first Croatian Parish in America, with a Pennsylvania Historical Marker.
Where we are standing today is where parishioners came together in happy times, as well as challenging times, with St. Nicholas bringing us hope and strengthening our faith.
For more than a century, generations of Croatians celebrated thousands of Masses, Weddings, First Communions, Confirmations, Baptisms, Novenas, Rosaries, and funerals.  In the social hall, there were bridal showers, wedding receptions, school plays, bowling leagues, banquets, graduation parties for the students of St. Nicholas School and CFU local lodge meetings…
Although the bricks and mortar are gone, this Pennsylvania Historical Marker marks this special space where the memories of St. Nicholas will live on.
May the memory and spirit of St. Nicholas live on in your hearts forever and ever."
Reverend Lawrence Frankovich closed the program with a prayer.
Over 110 Guests then gathered at the Croatian National Hall "Javor" for food, drink and music.
Click here to view a slideshow of the event. [Photos by Martha Rial, martharial.com]