Sept 20, 2018 Croatian Heritage Day at MHN
September 22, 2018 @ 4:00 pm

-

10:00 pm

$5 – $20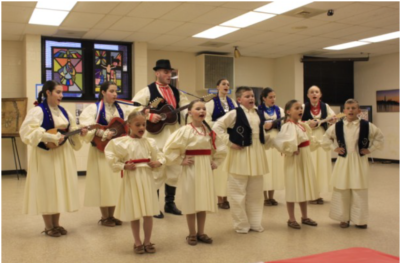 Saturday,  September  22, 2018
Second, Annual Croatian Heritage Day event at Most Holy Name of Jesus Parish, (Troy Hill), Pittsburgh    15212
4:00 – 9:00 PM
Adults $20   –   Children 10 and under $5
Two live Croatian musical performances– 5:30 Hrvatski Tanac; 6 – 9:00 pm. Mikey Dee Band
Hot , Homemade, Croatian-style dinner, salad, dessert & beverage
Advanced ticket sales only at Church Rectory – 412 231-2994 ext 0
       Saturday, September 22, 2018, Most Holy Name of Jesus Parish, located in Pittsburgh's Troy Hill, will host a Croatian Heritage Day event from 4:00 – 9:00 p.m.
Come and experience a piece of Croatia's culture with two live, Croatian musical performances, a delicious, Croatian-style hot dinner with mouth-watering, homemade desserts.
The school social hall will be lined with poster-size photographs of Croatian towns, villages and cathedrals, along with Croatian memorabilia. Authentic Croatian artifacts will be on display with merchandise available for purchase.  Take the opportunity to participate in several Chinese Raffles that will include many Croatian items and enjoy socializing with friends and family members. There will be coloring sheets of Croatian scenes and items to entertain the kiddies.
Dinner will be served in the Most Holy Name school hall, 1515 Tinsbury Street, Pittsburgh, PA 15212 from 4 to 6:30 p.m.  Advanced dinner ticket sales only available at the church rectory (412 231-2994, ext. 0). The adult dinner menu will include delicious, Homemade Stuffed Cabbage, Breaded Chicken, Mashed Potatoes, Green Beans, Tossed Salad, Bread, Dessert (homemade strudel, nut roll and other scrumptious desserts), Coffee and Hot Tea ($20 per adult). The dinner menu for children 12 and under will include: Slice of Pizza, Applesauce, Dessert & a Drink Box ($5 per child). For tickets, call Most Holy Name Rectory 412 231-2994 Ext 0 or visit the rectory located at 1700 Harpster Street, Pittsburgh, PA  15212.
A live performance by the very talented and entertaining folklore ensemble, Hrvatski Tanac, will begin at 5:30 p.m. led by world renowned choreographer and artistic director, Zelkjo Jergan.
We are very fortunate to have the fabulous Mikey Dee Band joining us this year as our second entertainer. The ever popular Mikey Dee Band will provide singing and dancing pleasure from 6 until 9 p.m.  They will entertain you with kolos, polkas, and other favorite melodies.
By popular demand, our bar will be stocked with Croatian and American beer, Croatian brandies and liquors will be available for purchase.
People of all nationalities are welcome! Come and partake in all the festivities, drink a little Kruskovac, taste the wonders of Croatian food, but most of all, experience the rich culture that is uniquely Croatian.